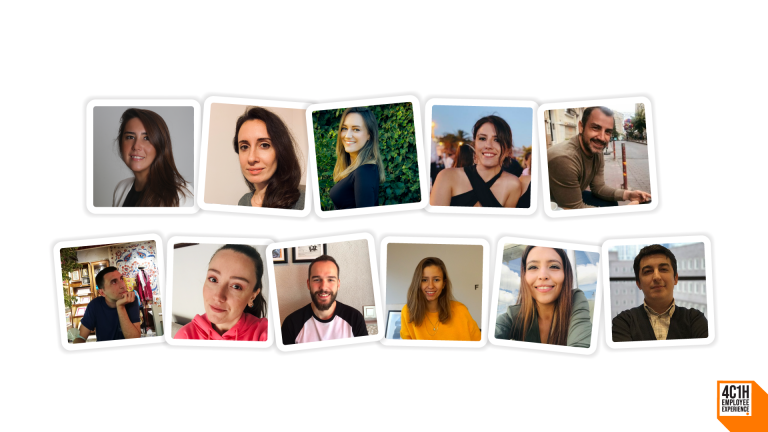 Hello from 4C1H Team! We're here to tell of ourselves as an overexcited, young but experienced team! Let's start…
First of all;
If you ask "Who/ What is 4C1H?", we can answer: Since our foundation year 2016, we're a brand which has been giving consultancy and agency services over Employee Experience, Employer Brand, HR Marketing and Internal Communication.
Now you can ask "Well, why 4C1H?". We took inspiration from 4Ps of marketing, and we established 4Cs of employee experience:  Connection, Competence, Commitment, Contribution. With Connection, since 2016, we have organized HR Communicators event where HR professionals gather and share their experiences. Under Competence frame, we share our knowledge and experience. We write on the sector magazines, speak in the summits and participate in the university lectures as guest speakers. Commitment is the part in which we perform our analysis and projects and so meaning and engagement show up. With our Contribution side, we make contribution introducing the digital into our work. 1H is Human: The human element that takes part in the very heart of employee experience field. We use all these 4Cs in order to support the human in the centre.
Our reason of existence is our greatest guide: We assert that we are here to sympathize with people forming the corporate culture and discover their stories and enrich them. In order to discover these stories and make them unique, we have our tools; content, production, design, polls, face-to-face meetings and all blessings of the digital world. We produce projects, imagine, write, draw and design to understand the employees forming the corporate culture, comprehend their needs and encourage the organizations to act along with these needs.
We are a team which consist of 15 people and work remotely altogether after pandemic. We believe that this new order is not a barrier against building a solid culture. We have taken steps in order to develop our own culture as well as our customers. We have arranged workshops and ideation sessions within the team. We have asked ourselves "How does a team member of 4C1H act?" and defined our meeeting, work, entertainment, vacation and education routines. And wecreated our playbook. So we embodied the story of our culture and paved the way for its transformation in accordance with the needs.
We have collaborated with more than 50 local and global brands. Among them there are industry leaders in Turkey as well as the global brands like Agesa, Dominos, Gilead Sciences and PwC.
Besides building corporate cultures we also carried out the employee experience and employer brand projects. One of our most distinguished force is the fact that we have a grasp of HR world and jargon. In Turkey, employer brand stories are mostly told through the digital agencies. But the fact that these agencies do not have a grasp of HR terminology and do not have enough know-how about the needs of HR teams, can cause problems in performance. Our team, with background of MarComm and HR, can proceed in a solution oriented way with our business partners.
In November, we'll complete our 6th year. For a young agency, we have covered a good distance by now. In 2021, we were rewarded by Stevie Awards as the Communication Team of the Year and the Company of the Year. Our founder Pınar Yarar was granted an award as the Female Entrepreneur of the Year. Also the projects of our customers got many global and local prestigious awards. We also achieved significant rises in engagement and satisfaction numbers. This motivates us to reach to more companies, employees, more hearts.
Surely our biggest force is our teammates. As a team that appreciate co-operation and team work, our team members embrace 4C1H and we shape the employee experience in accordance with our own needs and this again distinguishes us in our sector.
Now let's give the floor to our teammates and listen to the 4C1H from them too!
Merve working as the Employee Experience Director and Partner tells that the most motivating thing is to experience different cultures:
"I have been in 4C1H for 4 years but I feel as if I have worked in not just one but more companies and gained experience that much. It is very nourishing for one working in the employee experience to discover many different cultures, to think and design in accordance with the needs for different projects. I believe that the competences I gained and many new people I met provide my life with many good values!"
Cengizhan working as the Copywriter sees 4C1H like a school:
"Here each day I learn and improve myself. Working with various brands also enables me to gain knowledge and experience on every sector. I have been here for 6 months; I think I have got knowledge of at least 1-2 years in this time."
Pelin is the Content & Account Director. She is the one who is motivated seeing her own improvement:
"I completed my 9th month in 4C1H. The thing that makes me feel a great happiness to be here is to see myself developing each month. There is much difference between first-day-Pelin and present-day-Pelin. It is a very big chance for me to feel this, to get opportunities for my self-improvement all the time, to get in the projects I never experienced before, to co-operate with the leading organizations of Turkey and to work with the team who always support each other."
Asli working as the Business Development & Customer Relations Director and Partner emphasizes the team spirit in the 4C1H culture:
"One of the most important elements of the 4C1H culture is the team spirit. When we offer the best to our customers, there is a co-operating, strong team which support us in the kitchen. This is the most motivating thing for me."
Fulya is the the Art Team Lead. She talks about the team spirit that improves everyday.
"I have been in different agencies, teams, and organizations for many years. Working with a team that always gives effort for the better in 4C1H is amazing. Each day, we grow and develop together."
Dilay working as an Art Director tells her own story:
"I started my business life as a trainee in 4C1H and continue as an Art Director. Each passing day, I see my own change and development. Since they give me this opportunity and trust me, I can do my job more gladly and motivated."
Anil working as the Account and Community Manager touches on an important point:
"In 4C1H, the cobbler's children have their own shoes. It is a precious experience to create the company culture for ourselves as we did for our different brands. I feel safe in our work environment where I feel deeply the team spirit and support."
Finally…
Many projects and brands for which we will discover new stories and perform meaningful employee experience projects are waiting for us! In the upcoming period, we turn our face not only to the projects in Turkey, but also to the global ones. We are very excited for all. We are taking firm steps forward in order to put 4C1H's stamp on much more stories.
If you want to reach us:
Instagram | LinkedIn | Website